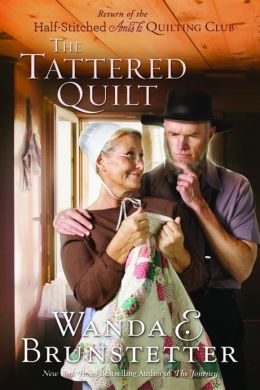 Genre: Christian Romance
Publisher: Barbour Publishing
Publication Date: August 6, 2013
Rating: 5 Out of 5 Excellent
PROS: Sweet continuing story from book 1; message of forgiveness and relationship building
CONS: none
Second in the series, The Half-Stitched Amish Quilting Club,
The Tattered Quilt
delivers a story that leaves the reader longing for book 3 of the series! Emma, and her husband, are back with a whole new class of students, but with a twist. Most of her new students are somehow connected to those that were in her first class...a great bonus for the reader! I loved being able to catch up with the characters from book 1, to see where their life has taken them, and what they are now doing! This was such an incredibly fast read for me, I was sad to see it end!
As with her first book, this class seems to be a bunch of mismatched people with nothing in common. A rough construction worker, a high powered business lady, and even a young Amish woman searching for the answer to life and trying to find/make her way in the world. Mishaps lead to misunderstandings, crazy adventures, and always an entertaining read for the reader!
Another bonus for me? As with the first novel, this story takes place in Northern Indiana, where I live. I loved reading of the towns and businesses that are literally in my backyard! I could even name the town/store they were headed to before Brunstetter had it written! Since she frequents our area regularly, her research and descriptions were dead on, and every little detail was accurate!
In a time when Amish Fiction is at an all-time high, it's nice to read a novel that has a touch of that genre, but does not bog you down and feel overdone. With so many authors breaking out in this category, the trailblazers are having to tweak and fine tune their niche in order to stand out from the others. Brunstetter does an excellent job in combining the two worlds of the Amish and the English (non Amish) so true to our area...the Amish mingle in our community, interacting with others, whether in town or in their own neighborhoods, rather than secluding themselves from the rest.
With so many published novels, one might think Brunstetter may be nearing the end of her career, she can't possibly keep coming up with new material, can she? In this reader/reviewer's opinion, Brunstetter is just hitting her stride, especially with this series! Each and every story has a fresh new twist to it, grabbing the reader from the start. What was once supposed to be a stand-alone novel, has now turned in to an unbelievable series! Because her reader's asked, Brunstetter decided to write book 2, following up with book 3 coming out in 2014!
Brunstetter draws you in to the inner circle of her characters, making you feel like you are part of the quilting class. You long to join a group of misfits, learn the art of quilting, and possibly come out with a whole new group of friends, or at least new acquaintances. Because of the popularity of the first book, there is even a musical play that has been adapted from the series! Located in Shipshewana, IN at The Blue Gate Theater (and in PA and OH), readers can now see their favorite characters come to life!
**I received this copy in addition for my honest review/opinion**