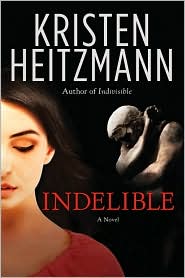 I would describe this book as a good read, not a great one, but a good one. I loved the storyline or plot of the book:
"Rescuing a toddler from the jaws of a mountain lion, Trevor MacDaniel, a high-county outfitter, sets in motion events he can't foresee. His act of bravery entwines his life with gifted sculptor Natalie Reeve - and attracts a grim admirer."
There were times during the rescue that were stressful to me as a mom, I can't imagine what it would be like if my toddler were in that situation. Heitzmann draws you in and enables you to feel the feelings that the characters are going through.
Who could ever imagine though how Natale and Trevor's lives would entangle as they do? From complete strangers emerges a true friendship that usually takes years to cultivate. They have their rocky patches along the way, but what relationship doesn't?
There are definitely some surprises along the way, and with the bit of mystery added to the romance, I was hooked from the beginning. So hooked, in fact, that I read the entire book to find out the outcome, even though there were times I wanted to abandon it.
Rarely do I enjoy reading books that flip back and forth between 2 entirely different scenes. One drawback to this book, in my opinion, is that at the beginning of each chapter there is a page telling the story of the "grim admirer". It never mentions the persons name, or gives great details about them, just tells the thoughts and actions of the admirer. To me, the pages were an unnecessary rode bump in my story reading. I skimmed those pages, looking for useful info I may need to continue along in the story, but never received any. I would have been fine just jumping straight in to the chapter reading and skipping the others all-together.
It is for the above mentioned reason, that I only give this book a 4 star rating. If you are looking for a storyline that will draw you in, I recommend this book...my only advice, is skip the unneeded pages!
I received this book for free from WaterBrook Multnomah Publishing Group and was not required to post a positive review.