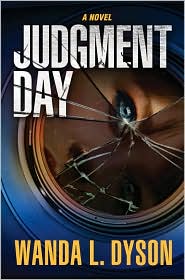 "Sensational Journalism has never been so deadly. The weekly cable news show Judgment Day with Suzanne Kidwell promises to expose businessmen, religious leaders, and politicians for the lies they tell. Suzanne positions herself as a champion of ethics and morality with a backbone of steel--until a revelation of her shoddy investigation tactics and creative face embellishing puts her in hot water with her employers, calling her credibility into question and threatening her professional ambitions." (taken from book back cover)
This book will have you sitting on the edge of your seat! Wanda Dyson is a new author to me, so I wasn't sure what to expect when I received this book. Christian fiction is my main genre of choice, but I am a fan of TV shows such as NCIS and NCIS LA, so I was hoping this book would be a mixture of the two.
From the beginning of the book, I was intrigued by Suzanne's behavior. She is a hard core "journalist" with no time for friends. But then again, with her business only attitude, I'm not sure friendships are on the top of her priority list!
Enter Marcus and Alex, private detectives who have been friends since college. Marcus is Suzanne's ex-fiance, but little time is spent on that relationship connection. Alex, a gun toting super-model, loves her job and everything they stand for. She comes from a wealthy family, whose house servants, private jet, and vacation homes leave her wanting for little. But those are not things she strives for, instead, justice and truth are what she stands for.
Missing runaway teens, murder victims, corrupt politicians, and ties to the Russian mafia, the list goes on. This book is full of twists and turns, and will have you flying through the pages. If you are looking for a good romance novel, then this book is not for you. If instead, you are looking for a crime fighting novel, I highly recommend this 5 star book!
I received this book for free from WaterBrook Multnomah Publishing Group and was not required to post a positive review.