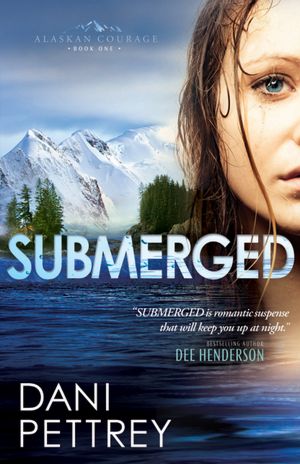 About the book...
A sabotaged plane. Two dead deep-water divers. One single clue.
Baily Craig vowed never to set foot in Yancey, Alaska, again. She has a past, and a reputation--and Yancey's a town that doesn't forget. She's returned only to bury a loved one killed in the plane crash, but then dark evidence emerges and Bailey's expertise becomes invaluable for the case.
Cole McKenna can face dangerous rescue dives. He can face the fear a murderer may be threatening his town But facing the reality of Bailey's reappearance is a tougher challenge. She broke his heart...but doesn't seem to be the same girl who left Yancey ten years ago. And he's not the same guy she left behind.
Racing against the clock and a rising body count, Bailey and Cole must move beyond the hurts of their pasts to work toegether until the truth of what is hidden in the depths finally surfaces.
My thoughts...
Rarely do I have to wait long on the arrival of a book once I decide to do a review. That was not the case this time. My unprecedented wait time for this book was 2 months...that's a long time for someone who is anxiously awaiting the arrival of a much anticipated book! Needless to say,
Submerged
was definitely worth the wait!
Although I am not a deep sea diver (I can't even snorkel in the pool) I loved reading of the dives and adventures that took place underwater in the great state of Alaska (one of the places I would love to travel to)! Last Frontier Adventures, a local scuba rental and guide shop, seems like a typical small town family owned business, with the McKenna family running it. A great place to work and connect with friends, although if I were to work there, the first thing I would do would be to disconnect the door sound announcing the phrase "Wipe Out", every time someone entered the shop!
The story starts out with a death, a bit of a mystery, and a touch of home-town regret. From the start, Bailey's story is one familiar to many...she's lived a past she would like to forget, but is unsure how to move past it in the small town she grew up in. I loved the real and raw emotions we glimpsed from Bailey, Pettrey did an excellent job in writing this character with a believable past!
Cole may not have had as rough of a past as Bailey, but he has had his own share of trouble to deal with. I found myself rooting for these two characters, hoping they could work through their problems and get from life what they deserve...true happiness!
The dynamics of the McKenna family are amazing...such a close-knit, loving family that truly knows how to let their hair down and have a good time! They leave you longing for what they have...sensing contentment and "family" do exist!
I give this book 5 stars and can not wait until Shattered (the next in the series) comes out in February!! I look forward to Piper's story, hoping it leads her on a journey of a lifetime. And if a certain childhood/family friend can be included in that...all the better!
**I received this book from the publisher in exchange for my honest review**