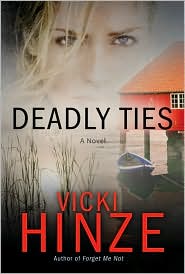 "A horrific crime shatters Lisa Harper's idyllic childhood. Her father is dead and her desperate mother, Annie, quickly marries Dutch Hauk, an abusive monster who soon reveals his hatred for Lisa.
Burdened by his own traumatic past, former Special Operations Officer Mark Taylor has loved Lisa from afar. Now, for Lisa and her mother to survive, Mark must risk his life - and even more difficult for him, he must trust God. Can Mark and Lisa untangle these deadly ties before it's too late?"
Little did I realize when I started this book was that it was book two in a series (the Crossroads Crises Center series). By the time I figured that little fact out, I was too far involved in the storyline to pause and search out the first book. Yes, having read the first book may have answered a few questions I had, but I was by no means lost without having read it. I quickly became enthralled with Mark and his "buds", learning their quirks and envying how they had "each others backs"! Just as easily, I felt welcomed in to Lisa's small circle of confidants, the few she allowed to get close and shared her feelings with. From the very beginning of sharing their special day together (his birthday, her "graduation"), to the very end of starting their dreams of the future, the ride with Mark and Lisa is one you will definitely want to journey with them along the way. And who knows...you may even find your special "seashell" story also!
Overall, I would give this book 5 stars. My only question is...can I wait for the next book, Not This Time, to be released in Spring of 2012? I can't wait to hear Joe and Beth's story!!
I received this book for free from WaterBrook Multnomah Publishing Group and was not required to post a positive review.